Welcome to the 15th QueerFilmFest Rostock!
First of all, some general information: the workshop will take place in the big hall of the M.A.U. Club, just like the film screenings, but the party will take place in the Peter-Weiss-Haus. Details about the events can be found in the respective descriptions, as well as details about the films (e.g. content information or info about spoken and subtitled languages).
There are no tickets or advance sales for our festival – just come to the programme items that interest you, and feel free to leave a small cash donation at the entrance.
We are a small, voluntary team and organise the QueerFilmFest in our spare time – if you would like to support us, feel free to contact us or send us an email to queerfilmfest@gmail.com.
We are looking forward to a glittering film festival, to exciting guests, conversations and encounters, and especially to you!
Here you can download the programme as pdf:
Hygiene measures
We are aware that COVID-19 no longer plays a role for many people in everyday life, unfortunately this is especially not the case for people from vulnerable groups, which also include many queer people. A larger event in closed rooms without hygiene measures excludes certain groups of people from attending from the outset.
Even though there is no longer a legally prescribed obligation to wear a mask, we urge you, out of solidarity, to always wear a mask during the events and to respect the observance of the known hygiene measures as in the past years. This is the only way to enable as many film-loving queer visitors as possible to attend the QFF safely.
We will have some masks available at the entrance. Just ask us 🙂
Overview
---
Workshops & Events
Safer Spaces and Awareness:
How do we create discrimination-sensitive events?
Workshop + reflexion and talk • 01.10.2023 • 02:30 pm • Lotte J. Hiller • M.A.U. Club
Lotte J. Hiller (they) is a speaker on the topics of anti-discrimination, awareness and safer spaces. At the University of Potsdam, they are writing their docto r ate in human geography on the accommodation policies of queer asylum seekers in Germany.
In their workshop, Lotte Hiller provides insights into what a Safer Space is and how the term has devel oped to how we understand it today. What role do the body, feelings & music play in this? Using queer voices, the contribution discusses the potential of safer spaces and how they can serve as spaces for storytelling and care work. Again and again, the workshop invites you to reflect and to exchange experiences with each other. The participants can contribute their own experiences and share how they design Safer Spaces themselves in which contexts. The aim of the workshop is to approach awareness work in the event context with new perspectives and to take away practical tips.
→ The workshop will be held in German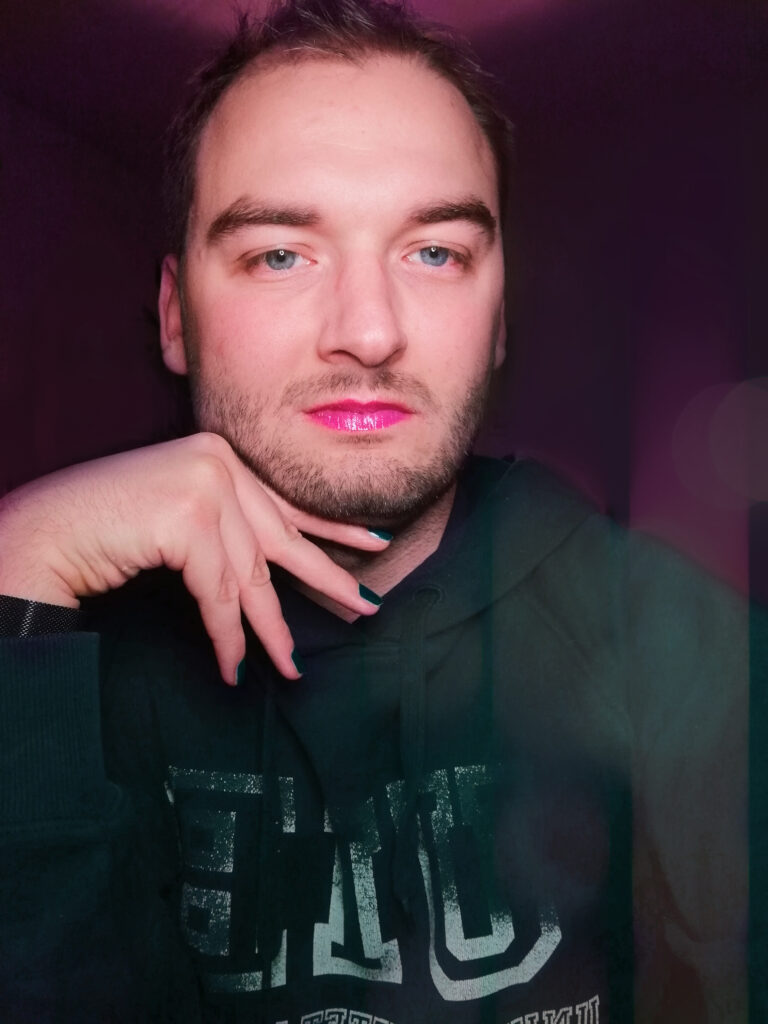 Party
Aftershow-Party by Mixed Feminist Action • 30.09.2023 • 10 pm • Peter-Weiss-Haus • Admission 3–6 EUR according to self-assessment
The QueerFilmFest Rostock turns 15 – reason enough to celebrate, talk and dance together again. We are looking forward to seeing you! 🥳
The following DJanes will be playing:
10:00 pm – 12:00 am: cyankali
12:00 am – 02:00 am: Jule Esteh
02:00 am – 04:00 am: Defkat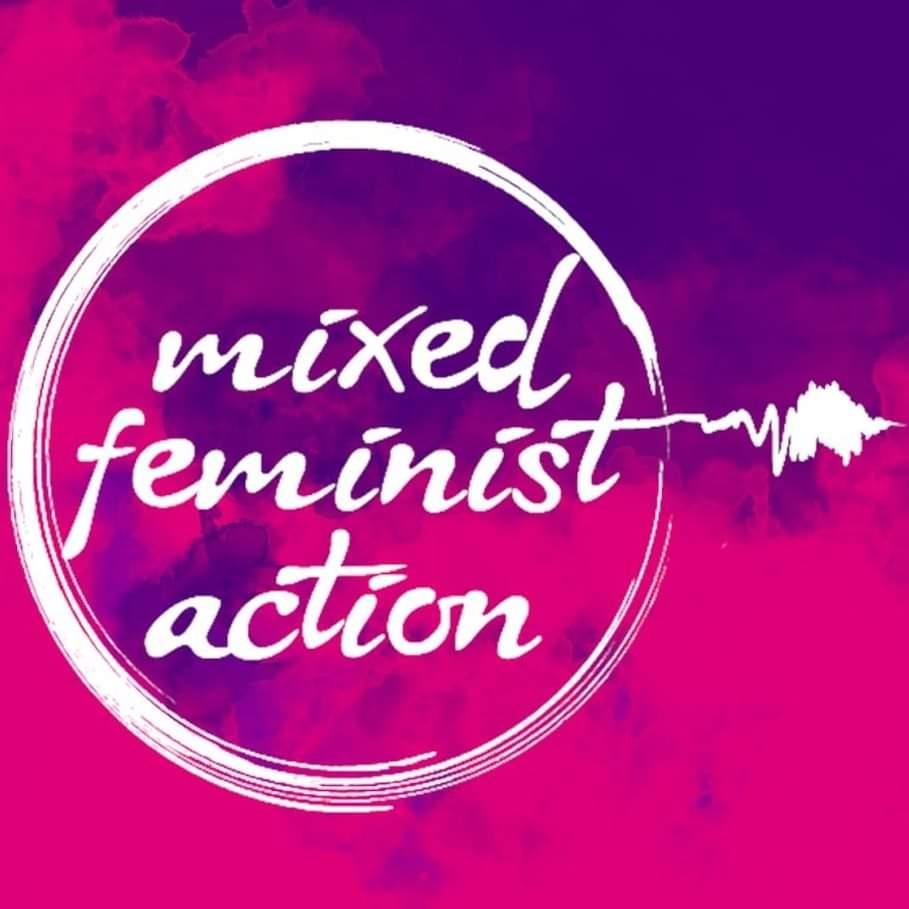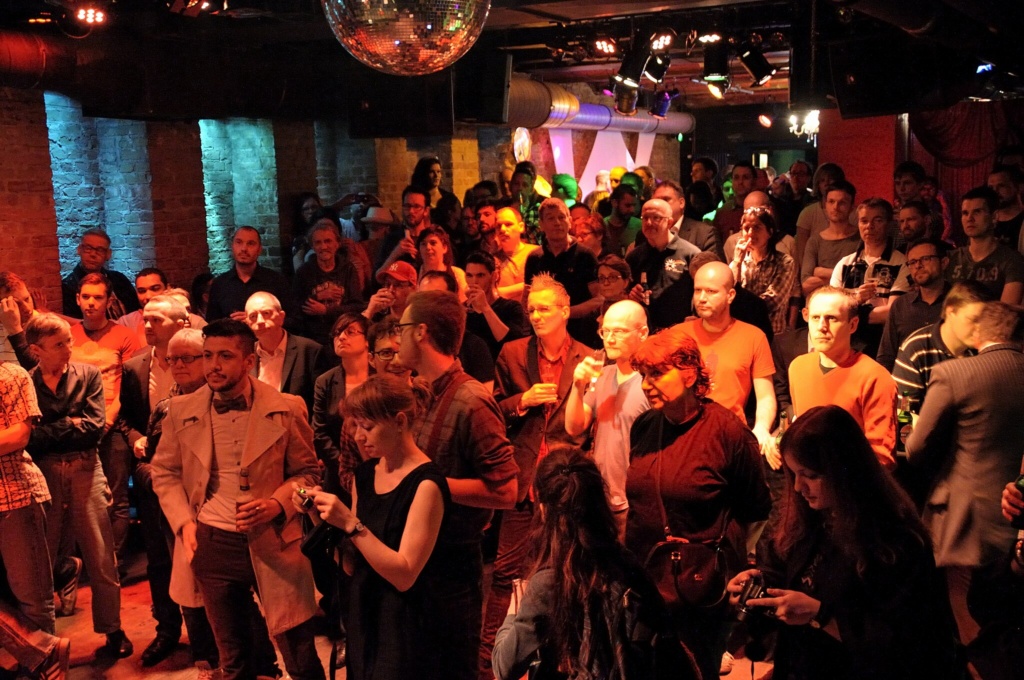 ---
Films on Friday, 29.09.2023
07:00 pm
Norwegian Dream
⚡ Content notes: homomisia (homophobia), work accidents, racism, adoption
Feature film • Leiv Igor Devold • Norwegian, Polish, English with German subtitles • 97 min • NOR, POL, DEU • 2023
More about this film …

Robert is 19 years old and has just moved to Norway as a migrant worker. In a fish factory he wants to earn the money his mother so desperately needs. He hides the fact that he is gay from his colleagues for fear of their reaction and because of the bad experiences he had in Poland. But then he falls in love with Ivar, the factory owner's adopted son, who is openly gay and also perfoms as a drag queen. At the same time, there is an industrial dispute in the fish factory – because of the many violations of occupational safety and health, the workers decide to unionise and go on strike. In the end, Robert has to decide whether he wants to be come part of the exploitative system or stand by his love for Ivar.
09:00 pm
Bury Your Gaze (Short film block)
Please read the film descriptions carefully and feel free to skip this block if any of the issues mentioned make you feel uncomfortable. We are happy to welcome you back tomorrow.
⚡ Content notes: war, homomisia (homophobia), transmisia (transphobia), youth welfare system, dementia, HIV/AIDS, alcoholism/ addiction, trans-related psychological assessment, family psychological violence, forced appraisal
It's A Date

Experimental • Nadia Parfan • Without Dialogue • 5 min • UKR • 2023
Kyiv, 2022. A car is racing at breakneck speed through the city at dawn, captured in one long, con tinous shot. This contemporary remake of Claude Lelouch's film C'était un rendez-vous is a powerful visual metaphor for emotions during times of war.

The Shift

Feature film • Amalie Maria Nielsen • Danish with English and German subtitles • 19 min • 2023 • DNK
Milo is 13 years old and lives in a group home for girls. Milo is also in the middle of transition, and Milo's counsellor Nicki is the only one who knows. Rumors circulate in the facility and one day Milo overhears something he shouldn't have heard. Milo's feelings escalate and it soon becomes evident that not all conflicts can be resolved with mere words ….

You Will Still Be Here Tomorrow

Feature film • Michael Hanley • English with English and German subtitles • 13 min • CAN • 2023
Aiden is driving home to visit his dad, who is living with advanced dementia. Despite Aiden being out for years and married, he has to tell his dad over and over again that he's gay. In the end, Aiden is faced with the question of what is more important: his feelings and integrety, or those of his dad.

That's Why I Don't Like Strawberry Ice Cream

Feature film • Inés Pintor, Pablo Santidrián • Spanish with English and German subtitles • 9 min • ESP • 2022
Álex has withdrawn, into a night bar but also into himself. Three conversations between dream and reality help him to find the cause of his hurt and problems.

Too Rough

Feature film • Sean Lìonadh • English with English and German subtitles • 15 min • GBN • 2022
After a night out with Charlie's liberal queer friends involving lots of alcohol, Chalie and Nick wake up at Nick's parents' house. Nick tries to hide Charlie from his homophobic parents, and vice versa, his parents from Charlie. The film's 4:3 aspect ratio underscores the claustrophobic, oppressive atmosphere in Nick's home. In Too Rough, director Sean Lìonadh processes experiences from his own youth.

Desviación típica (Standard Deviation)

Feature film • Paco Ruiz • Catalan with English and German subtitles • 10 min • ESP • 2022
River has an appointment with a psychiatrist. He knows exactly how to answer the questions about his gender and sexual behaviour in order to finally get the hormone replacement therapy he's been longing for – but there is one detail that threatens to derail everything.

Sunday

Feature film • Aarun Fulara • Hindi with English subtitles • 10 min • IND • 2022
Kamble goes a long way every Sunday to get a shave and a haircut, but it always has to be the same barber…

Hugo 18h30

Feature film • Simon Helloco, James MacIver • French with English and German subtitles • 13 min • FRA • 2020
Hugo is an actor, he needs and attends auditions. At this one, at 18h30, he is asked to tell a story as director and actor at the same time, maybe about love and lust? – What will Hugo tell about friendship and passing?
---
Films on Saturday, 30.09.2023
05:00 pm
Who I Am Not
Documentation • 103 min • English, Sepedi, Xhosa, Setswana, IsiZulu with English and German subtitles • Tünde Skovrán • ROM, CAN • 2023
More about this film …

The documentary follows two intersex people as they search for themselves. Sharon-Rose (she/ her) used to compete in beauty pageants and now works as a manager in a pharma ceutical company. She only found out as an adult that she has XY chromosomes and there fore cannot have biological children, leading to an identity crisis for her. Dimakatso (they/them) was born with ambiguous genitalia and assigned female. They underwent multiple surgeries when they were a child, but the records of this can no long er be found. The film not only provides insights into the struggles of the protagonists, but also into South African society: into the widening gap between rich and poor, into strictly heteronormative Evangelical church communities, into the rituals of shamans, into families with rather conser vative gender role norms and last but not least, the harsh reality of beauty pageants.

Who I Am Not is the directorial debut of the Romanian actress Tünde Skovrán and this year won the QueerScope Debut Film Award, which is endowed with 5,000 euros. The film combines classic elements of a documentary with dreamlike, symbolic sequences and thus introduces the audience to a group of people who otherwise often remain invisible even within the LGBTQIA+ community.
07:00 pm
Blue Jean
⚡ Content notes: Mobbing
Feature film • 97 min • English with German subtitles • Georgia Oakley • GBN • 2022
More about this film …

England, 1988: Clause 28, passed by the Thatcher government, is in force in Great Britain. By law, homosexuality can only be spoken of negatively in schools and local authorities. Jean is a physical education teacher at a school and a lesbian. At school she regularly lies about her private life, as she doesn't want her colleagues to know that she has a girl friend and that she regularly goes to queer bars.Hintergrund der queerfeindlichen Stimmung im Großbritannien der späten Achtzigerjahre und stellt moralische Fragen, auf die es keine einfachen Antworten gibt. One evening she meets her student Lois there. Jean knows that she could lose her job if her homosexuality became public. Things get even more precarious when Lois is accused of kissing a classmate against her will at school. The film tells personal stories against the backdrop of anti-queer sentiment in late 1980s Britain and raises moral questions with no easy answers.
09:00 pm
Kokomo City
⚡ Content notes: sex, sexwork, drug use, transmisia (transphobia)
Documentation • 73 min • English with German subtitles • D. Smith • USA • 2023
More about this film …

Koko Da Doll, Liyah Mitchell, Daniella Carter and Dominique Silver are trans, black and sex workers. In Kokomo City, they talk openly about sex work and their bodies, but also reflect on their origins, their position in society and the danger they are constantly in as trans sex workers. Director D. Smith, who is herself trans, gets very close to her protagonists and stages them in glamorous black and white.

Kokomo City has won various audience awards, including the Panorama Audience Award at the Berlinale and the NEXT Audience Award at the Sundance Festival.
---
Films on Sunday, 01.10.2023
05:00 pm
Mutt
⚡ Content notes: sex, transmisia (transphobia), racism
Feature film • Vuk Lungulov-Klotz • English, Spanish with German subtitles • 87 min • USA • 2023
More about this film …

After his transition, Feña almost completely left his old life behind and severed all relationships. Mutt accompanies Feña for 24 hours in New York as he reunites with people from his past. He meets his ex-boyfriend in a club, gets an unexpected visit from his little sister and picks up his Chilean father from the airport. The hot day in New York summer thus becomes a coming-of-age story full of subtle nuances.
07:00 pm
Abundantly Queer (Short film block)
⚡ Content notes: Catholicism, Light Drug Use, Sex, Ice Queen, Fairy & Unicorn
A short film block with mostly cheerful films, as diverse as queer people themselves.
The Beauty Of Being Deaf

Experimental • 3 min • English subtitles • Chella Man • USA • 2021
In this movie, three deaf, BIPOC actors recite a poem about the beauty of being deaf underwater in American sign language. And how cool is it to be able to communicate underwater?

Beautiful They

Feature film • 11 min • English with English and German subtitles • Cloudy Rhodes • AUS • 2021
Blue, young and genderqueer, wakes up early, binds their breasts, indulges in a joint and enjoys the view out the window. A chance en – counter with Violet leads the two to the seaside, where Blue watches Violet surfing.
Beautiful They is a reflection on the nuances of gender and at the same time a youthfully light, non-binary love story.

Elsa

Feature film • 12 min • Spanish with English and German subtitles • Albert Carbó • ESP • 2021
Elsa is six years old and wants to lead a happy and free life, just like the other kids. Altough she knows that she's different than the others, she is adamant that she is a girl. And a queen. A charming and convincing plea for diversity and self-determination.

From X To Z

Feature film • 9 min • English with German subtitles • Florencia Manovil • USA • 2021
A grumpy Gen-X butch stumbles against her will into a conversation with a detached, non-binary Gen-Z teenager. As they talk, her assumptions about 'youth these days' are thorougly challenged.

How Not To Date While Trans

Dramedy • 13 min • English with English and German subtitles • Nyala Moon • USA • 2022
Andie is trans. In this dark comedy, she takes us with her to dates with men, some more and some less problematic. What starts as a search for love becomes a series of bizarre situations, with her reflecting on her life as a trans woman.

Unicorn

Comedy • 14 min • English with English and German subtitles • Matt Porter • USA • 2021
A unicorn is a mystical creature: usually a bisexual, often younger person, who joins an established relationship of two other people as a third partner.
Unicorn teaches us why you can't mend a crumbling relationship by just adding another person, in what situations it is advisible to use a safe word, and that conjured sex demons are much more selfreflective than their reputation suggests.

Just Johnny

Feature film • 20 min • English with English and German subtitles • Terry Loane • NIR • 2021
Maria and Dermot's straightforward family life takes a sudden turn when their son Johnny announces that he wants to wear a dress for his Holy Communion. Both parents are keen to do what is best for Johnny, but their different opinions almost pull the happy family apart.

Tank Fairy

Musical • 10 min • Taiwanese with English and German subtitles • Erich Rettstadt • TWN, USA • 2021
In Taiwan, "song wa si de" are workers who routinely supply gas tanks to street vendors and old residential buildings. The magical Tank Fairy delivers her tanks unlike any other – with sass, stilettos and a healthy helping of glitter. Her arrival upends the life of Jojo, a lonely tenyear- old who dreams of dancing and drag. Outcast by classmates and misunderstood by his stern, single mom, Jojo is inspired to live out loud by his fierce, propane-toting fairy godmother.
Tank Fairy is a musical extravaganza that encourages us all to embrace our authentic selves (with choreographies by Akuma Diva, known from the New York ballroom scene).

The Birth Of A Beautiful Butch

Feature film • 3 min • Without Dialogue • Gia-Rayne Harris • USA • 2021
The school photographer comes to school and everyone is smiling hard at the camera trying to look good. Should Alex be and look like everyone else or break with convention?